The alternative finance market continues to power ahead in terms of support provided to businesses and individuals. The latest figures released by the Peer-to-Peer Finance Association (P2PFA) reveals that the peer-to-peer lending industry lent £750 million which brings the total lent by its members to just under £10 billion.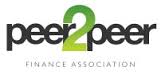 The P2PFA was established in 2011 as a representative and self-regulatory body for peer-to-peer lending in the UK. There are 8 members of the Association being Crowdstacker; Folk 2 Folk; Funding Circle; Landbay; Lending Works; Marketinvoice; Thin Cats, and Zopa.
The Association has reported that new member's lending to businesses and individuals has grown by almost £100 million quarter-on-quarter over the last year.
To demonstrate how peer-to-peer is now going mainstream, the Association has highlighted that net lending (defined as total lending minus repayments) of £191 million over the same period was greater by £60 billion than the combined net lending of the major high street banks which stood at £130 million.
On average, three quarters of the lending support UK small businesses. The disparity between the P2P lenders and the traditional High St banks is further highlighted by the latest figures from UK Finance which show that in the 12 months to August 2018, bank lending to businesses fell by 2.1%.
The P2P sector continues to fill a gap being left by the banks and no doubt has been a lifeline for many small businesses.